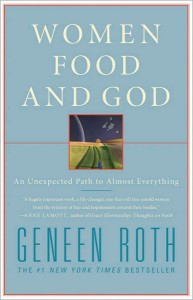 This is an original post written by contributing writer Rebecca from Letters From Crazyville.
When I first heard about The Mom Self Renewal Project, I was intrigued. I have written many posts on my own blog about the need for moms to care not only for themselves but each other. I am often struck at the lack of camaraderie there can be between moms and how quickly we can go from being a friend to being a critic. I loved to idea that I could continue to write about the need for not only self care but also care for each other as moms.
In the spirit of self-renewal I have decided to tackle my biggest demon and document it for you in the hopes that maybe someone else will take this journey with me. I recently saw the Oprah episode that featured the book, Women Food and G-d. I half listened to the show as I folded my 800th load of laundry.  I was thinking in my typical cynical way "blah blah, a bunch of chicks bitching about the fact that that can't help but eat the whole bag of chips and some know it all who is going to blame their big butts on the fact that they didn't get enough attention from their daddies", told you I'm cynical.
For some reason, I continued to think about the show and the book.
I could not wrap my head around the connections these women were making between food and the state of their lives. It did not hit me until I was making dinner, my kids were fighting (again) and I walked to the pantry and looked for something, something to eat. "Damn, I'm that girl, I am standing here looking for something to reduce my stress and aggravation and I am looking in my pantry for it." I have never thought of food as a drug like I heard it described on Oprah that day, I never would have considered myself an addict of anything other than handbags and sunglasses.
Could I be a food junkie?
Could the belly and thighs I blame on 3 babies and bad genes really be because I have a habit?
Now in the spirit of full disclosure, I am not a big girl, but I am no size 0 either. I am probably pretty average depending on the standard, Vogue would call me fat, and Dove would call me average. But I have never been comfortable in my body, I once wrote a post on my own body dimorphic issues. I look in the mirror and I see a fat girl, I wear a 4 or 6 depending on the brand so in my right mind, I know I am not a fat girl but I see one when I look at myself. When friends complement me comment on how skinny I am, I think their nuts. I squirm when my husband touches my jelly belly that my last child abused so badly in pregnancy that it would take more than SPANX to hold it in.
Maybe I do need to read that book I saw on Oprah. Enter The Mom Renewal Project and the wonderful opportunity I have been given to write for this amazing mission. My first project is going to be to read Women Food and G-d and write about my impressions, my journey and if I really think this book lives up to the hype.
If I can learn to look at my body and see it for what it truly is in the size that I really am (not the imaginary 12 sizes bigger I see when I look in the mirror) and give up counting points, kicking myself when I eat a bigger then maybe I should have bowl of ice cream (my food crack for sure) then I will be able to give myself an amazing 40th birthday gift this year and a gift I hope I can pass on to my own daughter.
I invite you to read the book along with me, to comment on my posts about your own experiences with food, this book or if you think I am a total nut job for sharing my dirty laundry with you! I have the book, I started it this week!
Comment and let me know if you will read along! I will meet you back here in a few weeks with my first report back!
Rebecca is the mom of 3 children who think it is fun to make her crazy. Married to an incredibly patient and understanding man who is patient with her need for change, trying anything once and compulsive love for purses and sunglasses. A Northern transplant, living in the biggest small town in the South. You can find her writing about the crazy things her kids do at Letters From Crazyville.